Peter Pan
J.M. Barrie's classic tale Peter Pan had been a regular Christmas Special diet in the United States. Starring Mary Martin and originally made in the 1950s the production was considered good enough to continually repeat year after year. Top American producers Gary Smith and Dwight Hemion decided to break with tradition and update the show sponsored by Hallmark Cards. It would star Mia Farrow as Peter Pan, Danny Kaye as Mr. Darling and Captain Hook, Paula Kelly at Tiger Lily, Virginia McKenna as Mrs. Darling and Briony McRoberts as Wendy.John Gielgud would narrate the two-hour production. Anthony Newley and Leslie Bricusse would write an original composition of songs. Ian Fraser would be musical director while the choreography would be in the capable hands of Oscar winner Michael Kidd (Seven Brides for Seven Brothers).Dwight HemionGary Smith A challenge for me was that for the first time ever, we would be involved in a stereo production. The first task was to record the music. This entailed a large orchestra recorded onto 16-track machines with sufficient tracks left blank to add artistes' voices later. The arrangements, by Dave Lindup and Peter Knight were top class.Before shooting began, artists would be called in to add their voice tracks. Danny Kaye was one of the last to arrive. It was a quiet Saturday afternoon. He was due at around 5:00 pm in the Studio C band room. To our surprise, he arrived at 2:00 pm. No other production staff was present so we arranged to play his tracks for him to listen to before going for a voice recording. Anthony Newley and Ian Fraser had previously recorded a rough track of the lyrics for the artistes to learn. Danny Kaye seemed a quiet, almost studious man and Roger Banks, the sound technician in the band room, ensured that he was happy with his headphone playback level, microphone position, stool and music stand height, etc. In the sound control we had two TV monitors looking at the band room. One long shot and one close on Danny. This often enabled us to foresee a problem or a request before the event. During a pause, Roger decided to talk to Danny. He related how several fans in the sound department were looking forward to seeing him. In his enthusiasm, Roger even ventured to relay the lyrics of one particular item concerning "The Vessel With The Pestle" (from the film The Court Jester). After several bad attempts to remember the lyrics, Danny finally exploded and said to Roger, 'If you must sing my songs get them right! It goes like this.....". He then proceeded to sing the song at breakneck speed. Roger looked on in admiration and at the end remarked 'that's the one.'This would have been the end of Roger's audio career, but Danny took a strange liking to Roger calling him Stringbean for the rest of the entire production. Roger was tall and thin and many times during the shooting, Danny would call Stringbean, requesting coffee or a peek at the script.All voice-recording sessions were completed on time except for Mia Farrow. Ian Fraser was slightly concerned that Mia would have a problem as some of the songs were quite tricky to sing and Mia was not a singer. Eventually we had a late night session with Mia in the band room vocal booth, and with Ian upstairs with us in sound control. The most difficult song for her would be a ballad called "Love". This was a pivotal song describing the loneliness of Peter Pan and the unattainable dream constantly haunting him. Ian figured if she could get this song in the can, the others would be easy. Several attempts in the vocal booth were unsuccessful. Much later, Ian had the idea of bringing Mia up to the comfort of our control room out of the daunting ambience of the lonely band room. He then sent Stringbean out to get a Chinese mail and a few bottles of wine.A microphone and cans were set up in the adjacent production control room where we had visual contact via darkened glass. By midnight, we had four very acceptable takes on tape. Mia, sitting alongside at the sound desk, was thrilled to see how we could mix between takes and come up with a definitive version. The rest of the songs were successfully recorded that night.Shooting began with the flying sequences. Studio B contained Wendy's bedroom. Kirby Wires were used in this set. Mia was flown into Wendy's room ostensibly looking for her shadow (song: "I'm' Better With You Than Without"). Kirby Wires are notoriously difficult to come to terms with and Mia crashed into the bedroom wall more than once, but always with a rueful smile and a joke.By week two we had got onto the pirate ship sets. Danny Kaye, resplendent in his Captain Hook outfit, spent most of his break times and scene change periods in sound control, regaling us with stories of his career (greatly encouraged by us). How Basil Rathbone had not sufficiently rehearsed his sword fighting scenes in The Court Jester. A sword swirling double was often used, much to Danny's disgust. He spoke of his nervousness during the making of his first ever movie Up In Arms. His admiration for his wife Sylvia Fine, who guided him throughout his early career was also related. He complained bitterly about the lack of time to learn lyrics on this production. In 'the old days' he would be given weeks, not days!During shooting, his miming of his tracks was impeccable. One sequence was 'The Rock' where Captain Hook and Peter Pan confront each other. Here, Danny would perform the song 'By Hook Or By Crook' a showpiece with fast talking lyrics that utilised his skills of miming to perfection. Hook and Pan are alone, stranded on a swirling, fog-bound rock warily looking for each other. The camera sees them both but they do not see each other. This was a tricky bit of choreography by Michael Kidd, sometimes stretching the imagination if not performed to perfection. Danny was unhappy with the set, whilst Mia stood by, mute. Eventually, the camera crew were stood down whilst the track was replayed many times as Michael and Danny tried to re-plot choreography.Finally, seemingly exasperated, Danny left the set. An hour later his dressing room revealed that he had left the site. Early wrap. The next day, to everybody's amazement, he had not only left the site but also left Great Britain to return home to Los Angeles to ruminate. The intriguing 'rock in the fog' set went dark.When Danny eventually returned, the producer Gary Smith and director Dwight Hemion invited him to Lorenzo's, a top London restaurant to lighten the atmosphere. Danny rejected the offer saying he was jet-lagged and too tired. Gary and Dwight's party went to the restaurant and after a superb meal the chef emerged from the kitchen to enquire whether the food was to their satisfaction. The chef was Danny Kaye, resplendent in a chef's outfit. Being a renowned superb cook, Danny had arranged with the restaurant to supervise the meals for the Hemion/Smith table.In the following week, the rest of the show went swimmingly. The sword fight sequences with Peter Pan aboard the pirate ship, involving Danny singing and generally leaping about, were quite arduous. A stunt double was employed for some of the more athletic moves.After completion, the musical director Ian Fraser, returned to the States with a video rough cut to compose the musical underscore with frame accuracy. On returning, Ian conducted the Jack Parnell Orchestra while we recorded more than an hour's underscore to picture. Unusually, I mixed this underscore while listening to the full dialogue track. This way, we ensured that no dialogue was obscured by music. Also, by mixing music at low level certain sections of the orchestra could be enhanced. Normally, a full volume mix played later at a much quieter level was not always faithful to the concept.The finished product was something we were all proud of. The beautiful set designs by David Chandler included an underground Peter Pan hideout beneath a tree in the Neverland sequences. Johnny Rook lit with his usual flair whilst Bill Brown's camera crew gave it all a super look. Later, the entire crew gathered in the band room for a playback of the first ever production to come out of Elstree in stereo. The show went out in the States with the option for viewers to tune in to their local radio stations to hear the stereo mix while watching their mono televisions. This was 1975, long before television transmission could handle stereo sound. Regretfully, after just a two-year run, the networks reverted to the Mary Martin version. Hey Ho! That's Show Business!
This portion of the sound script describes how we mixed between takes of Mia's vocals to produce the final mix. All sixteen tracks were occupied when shooting the song. therefore, the mix between tracks had to be accomplished as we went along. I believe the final shoot of the song was achieved in two takes?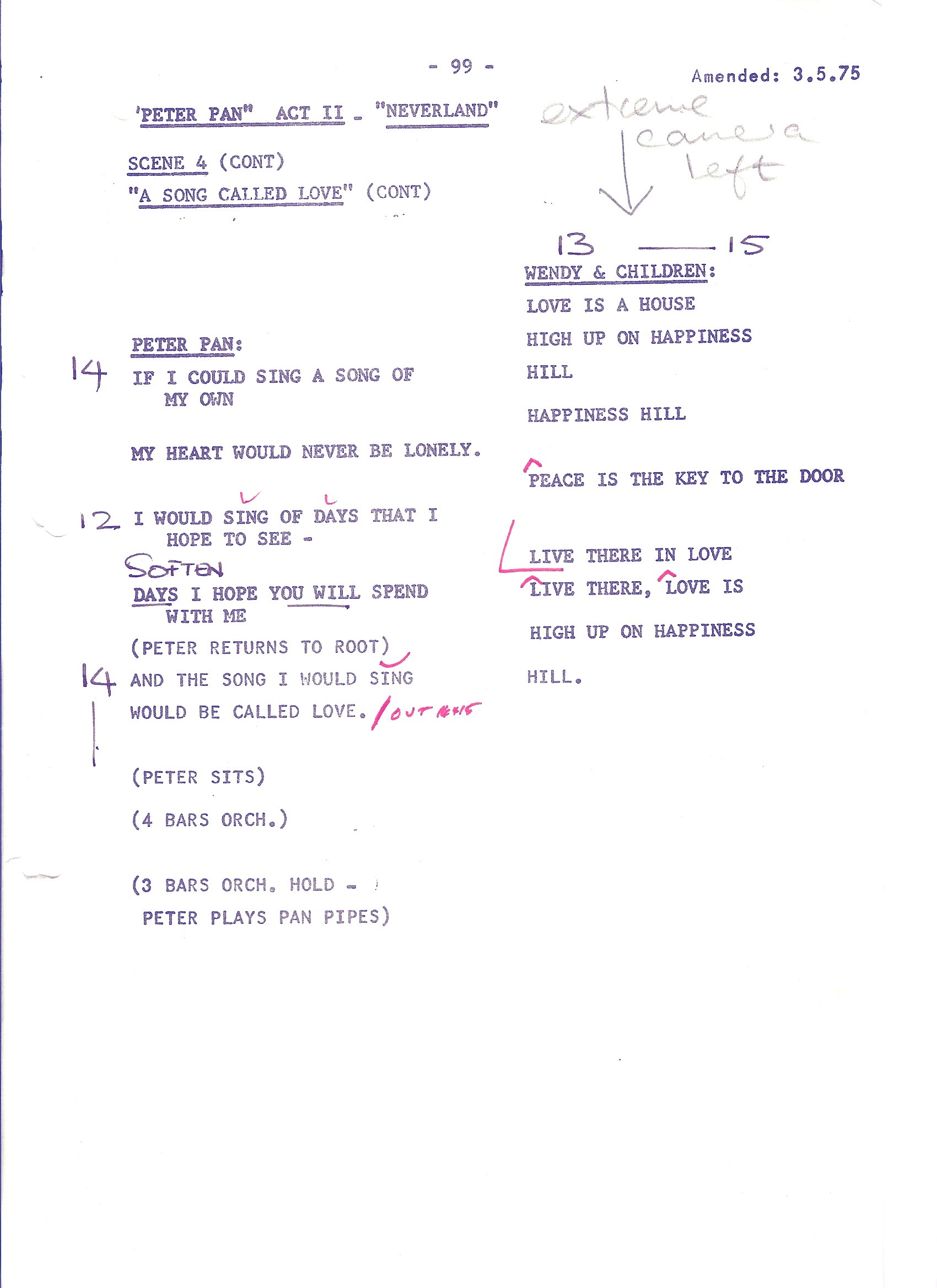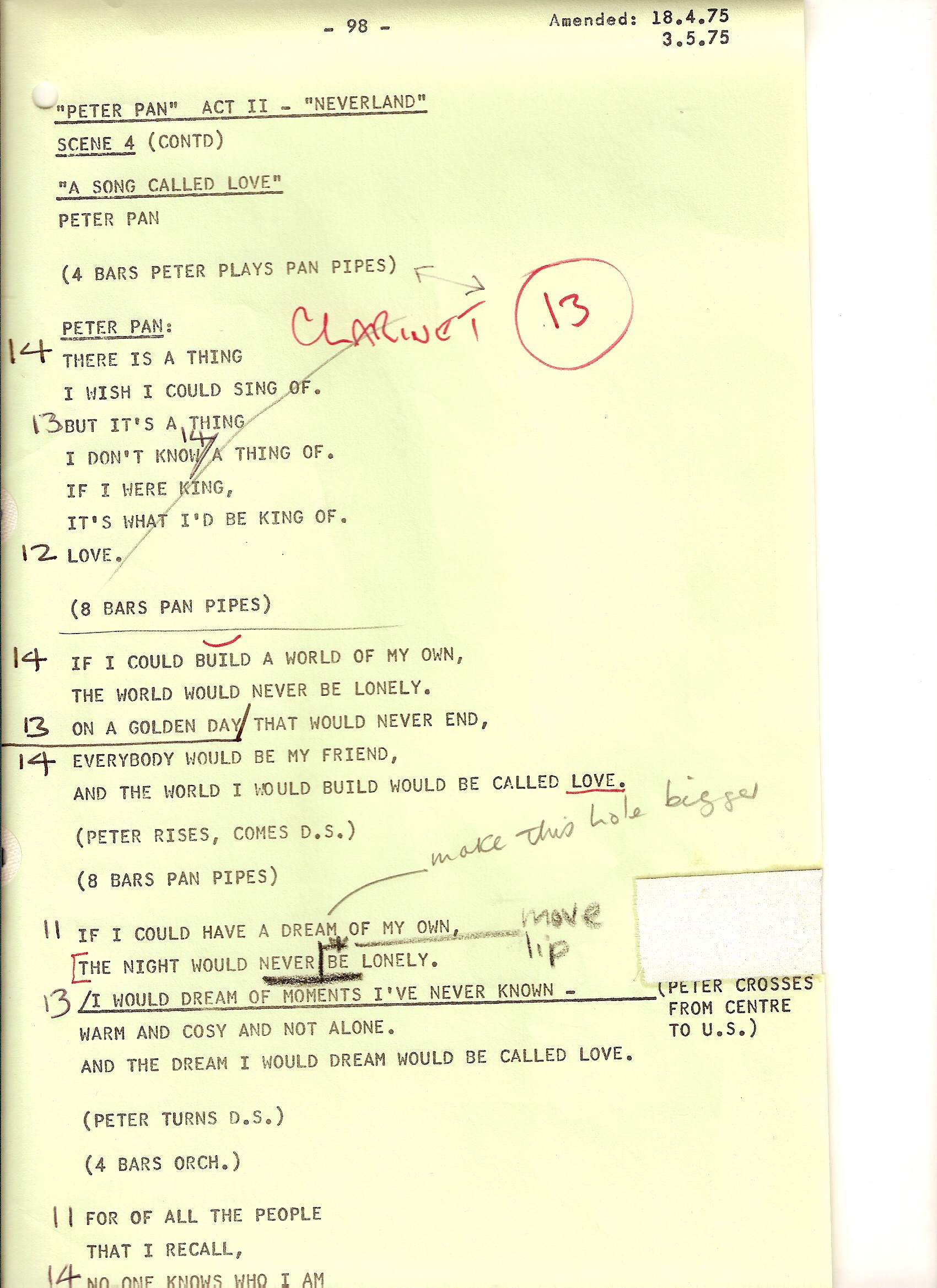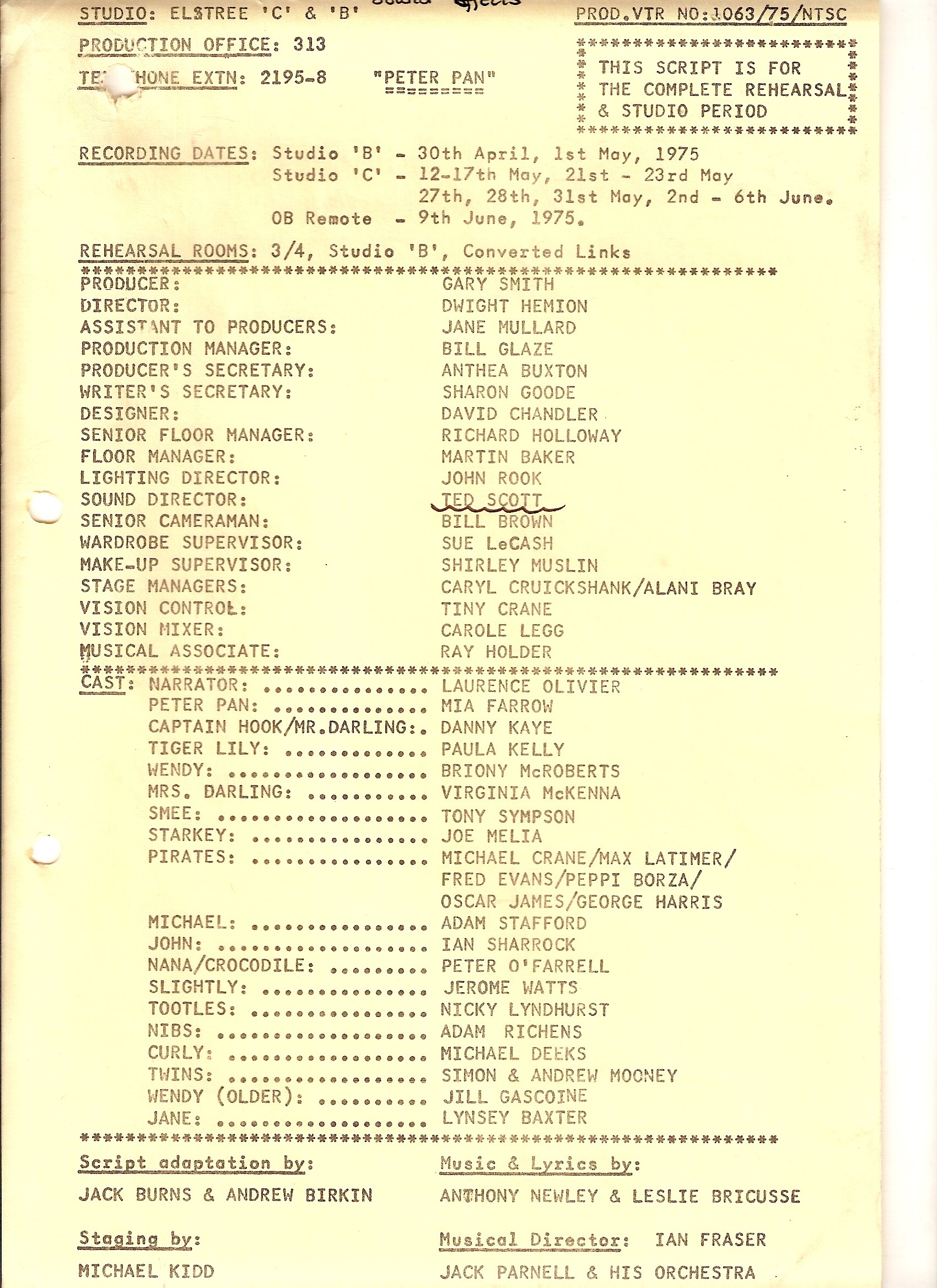 Gary Smith, much happier with TV interviews than Dwight, here talks about Peter Pan and ATV's technical staff talents, union problems and other productions.
Dwight Hemion died in Palm Springs in 2008. Incredibly, he was nominated for Emmys and Oscars 71 times, of which 42 were successful. Surely a feat never again to be repeated? Of all the time I knew Dwight, he never mentioned this. A quiet, lovely, talented man.